Team
Richard Lord – Creative Director and Choreographer
Richard has been choreographing in various media since graduating from London Contemporary Dance School in 1991. He was a founder-member of Locofoco Dance Company with whom he worked for eighteen months in 1991-92. In the following years he developed various dance video projects until in 1995 he returned to creating work for the stage, choreographing "Hamsters" in 1995 and "Hamsters in Mirrorshades" in 1996. In 1997 and 1998 Richard researched and developed a live installation, "Cyberkinesis", using technology to enable a live dancer to interact in real time with a computer generated lifeform, which was presented at Digital Dance in the Jerwood Space in London and at the Fonster Europe festival in Stockholm. Richard began developing "Duets for Small Spaces" in 1999.
Kate Heath – Composer
Kate Heath is one of the founder members of Piano Circus, the six piano new music group. They have toured both in Europe and Internationally, performing and running education programmes. She studied piano at the Royal Academy of Music but has always enjoyed collaborating with other artforms, especially dance and theatre. Some of the projects she has been involved in are: Sound Moves – a Dance Collaboration at the Place Theatre, a sound-beam course collaborating with music technology specialists and contemporary dance choreographers and co led Music Theatre workshops.
Rosa Freitas – Designer
Rosa is a set and costume designer who has been working with dance, theatre, film and video for the past 10 years. She works in both London and Lisbon and is currently setting up a theatre company named Casa Conveniente. Previous productions include the costume design for a feature film titled 'The slow drip of light' by Fernando Vendrell, designing the costume for and acting in the short film 'Leisure Lounge' by Nicholas Morgan, and her latest work for dance was 'The Bunker Project' by the 7 Sisters Group.
Jo Joelson - Lighting
Jo produces art projects under the banner London Fieldworks – the latest project Polaria takes place in North East Greenland this August and the resulting installation will tour to gallery spaces in 2002. Jo has worked with light for Piano Circus, Pascal Dusapin, Heiner Goebbells, Pulp, Sigur Ros, The Smith Quartet, James Wood, Nikki Yeoh amongst many others and has designed in numerous concert halls and theatres nationally and internationally.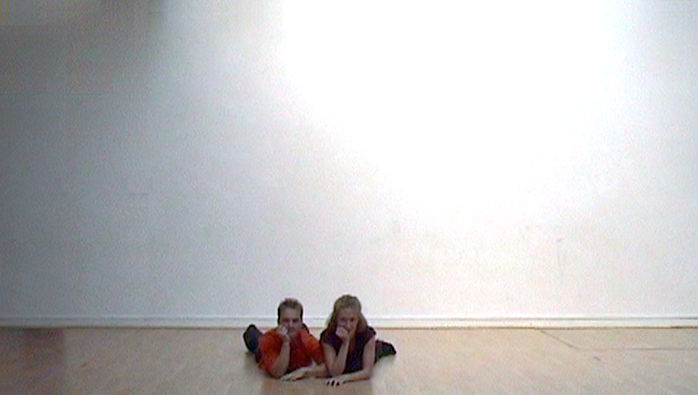 Philip Hill – Dancer
Phil has danced with Richard Lord on 'Duets for Small Spaces', Adventures in Motion Pictures on 'Cinderella, Swan Lake, Highland Fling and Nutcracker', Lloyd Newson on 'Mazzeppa & Ariodante', Aletta Collins on 'Carmen & Alistair Fish', V-tol on '32 Feet per Second per Second' and Dansproduktie on 'Space, Colour & Stamina'. Recently, he has choreographed many youth group and A level pieces and the operas 'Fantastic Mr Fox' in Los Angeles and 'A Beggars Opera' in Strasbourg. He regularly teaches in Belgium, Germany, Italy, France, Sweden and across Great Britain.
Marcia Pook – Dancer
Marcia trained at the Laban Centre in London. She danced with Attic Dance for two years and V-TOL for three years. Recently, she has worked as a dancer with Union Dance Company, and as an actress with Trading Faces and Frantic Assembly.
Vicky Evans – Dancer
Vicky trained at the London Contemporary Dance School. She worked on the Toute Femme Project, with the Phoenix Dance Company, and the Carlson Dance Company. In 1996 Vicky joined Adventures in Motion Pictures and has performed and contributed to the creation of 'Swan Lake', 'Cinderella' and 'The Carman', all of which toured in the UK, New York and Los Angeles.
Marcia was injured late in the rehearsal period and Vicky took over her role in the dance.